Audi A8

Monday, March 15, 2010
Reading that
the 2010 Audi A8 will be the first car with Google Maps installed
was quite interesting as it shows the Google/Microsoft push to become embedded everywhere is certainly happening.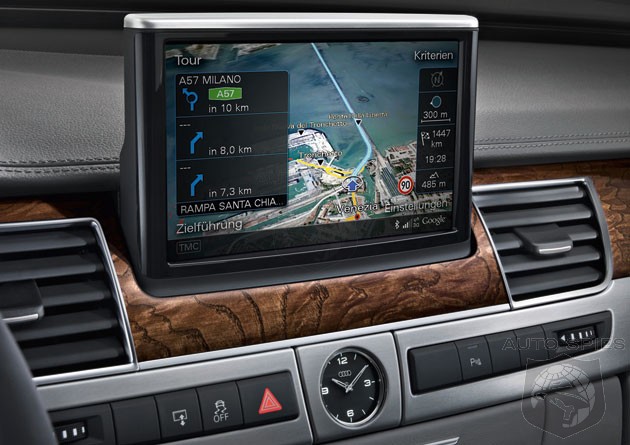 As I said back when looking at the
Aston Martin Rapide
, I'd want total luxury from the back seat with some get-up-and-go, and the I think
the A8L
with a big W12 or V10 would be the pick.
According to drive.com.au, a new A8L 4.2 will cost you A$233,900, and the 6.0 W12 will cost an eye watering A$345,900!!!
So how do they stack up on resale value?
Red Book
has the 2007 4.2 going for between $94,100 - $102,500 privately and the same year W12 going for between $133,600 - $145,300. That's under 50% of their respective values in just 3 years.
Ouch!!! (for sellers)
Woo Hoo !!!! (for buyers).
To be fair, most new cars will lose the bulk of their value in the first two years (50%), but checking out my SLK55 online it shows that the value then plateaus for years 2-4, with 2005 models only losing a further 10%.
Labels: Cars, Cool Tech stuff

posted by Lee Gale @ 1:25 AM, ,
In December, I was stumped with the question of what I wanted as a gift for my birthday and Christmas. I'm one of those painful people (period?) to buy a gift for as there is truly nothing I 'need' and few things I 'want' that I haven't gone out and bought for myself.
Fortunately, advertising helped me make my decision!
My amazon account told me
the Kindle was the leading gift for Christmas in 2009
and that they've finally pulled their fingers out and offered up
a version for international users
.
Apparently, if you believe the advertising, they sold more eBooks last quarter than physical books. I don't necessarily believe the advertising, but I do believe the market noise around eBooks, which was covered in the ReadWriteWeb article
EReader and EBook Market Ready for Growth
.
That morning, I had been on my way to Melbourne and arrived at the airport with nothing to read on the flight, having read all the ads in the November Qantas in-flight magazine before & a low battery in my laptop & iPhone which meant I felt the pain of having nothing to read.
When talking about it with my better half, I was sent this
Wired article on eReaders
which sealed the deal.
Apparently you break even on the purchase at around 15 books
as the books are around US$10 versus the $20-35 for a paperback. Given the amount I read, I'd break even by late January.
I'm a bit pissed off:
early in December, only the 6" version was available but
as of January 2010 (i.e. now), the DX 10" version is available
. To be honest, I don't think I'd spend US$489 vs the US$259 for the larger version but it would have been nice to have had the option.
Harvard Business Review
takes a look at the markets the larger version seems to cater for. It was reported on it's release that the Kindle DX will also be a part of a pilot program at six universities across the country: Arizona State University, Reed College, Pace University in New York, Princeton University, Case Western University and the University of Virginia.
Now you can go out and get the
Amazon Kindle reader
for your
PC
and
iPhone
, but apparently the iPhone version doesn't allow you to browse the Kindle store.
Mac
and
Blackberry
versions are apparently coming soon too. Interesting, according to the
ReadWriteWeb review
, Amazon does not expect that this app will cannibalize Kindle sales as users will probably only use their phones to read for short periods.
There have been tonnes of rumours regarding an
Apple tablet
(iSlate?) and the
Barnes & Noble eReader
, but the key selling points for me with the Kindle were:
The 'now' factor - I was looking for a present in December, so maybe the 4 points below are just me justifying my choice to myself!;

The screen: it's e-Ink, not a back lit screen which is supposed to be easier on your eyes and more authentically replicates the book experience;
Amazon's store: you get free wireless access to the store which makes getting a new magazine or book quick and simple. The store combined with the device is the killer app, much like Apple's iPod and iTunes combo;

It is a gen 2 device so most of the annoying kinks have been worked out; and
The ability to annotate, highlight and take notes - something I do a lot when reading.

Interestingly,
the magazine experience doesn't work so well on the Kindle
. Magazines are definitely optimised with glossy colour pictures, and they don't come out at all well on the Kindle.
However,
I've found the book experience fantastic
. The navigation is easy to learn and in minutes you wonder why you didn't take the plunge earlier.
We've now got two Kindles in our house (my better half decided they wanted one for Christmas), linked to a single Amazon account so we share all our eBooks.
My buying experience was slightly better
: the Kindle came configured to my Amazon account and all I had to do was fire it up.
Drew's experience was a little more painful
: it wasn't configured/registered and it was an older version of the software so wasn't working with wireless (so couldn't be registered). To fix both issues, about 45 minutes was spent on the phone to Amazon support in India. They also sent us a 3rd Kindle in the process as a replacement and charged me for it. They've advised once they get the 3rd Kindle back, they'll refund me. They are all really minor issues and other than that it's been plain sailing.
Right now, not all books are available as Kindle editions, and then not all Kindle editions are available internationally
. For instance, Seth Godin's latest output -
Tribes
- is one such example - much to my disappointment. Checkout this
FastCompany article
to learn the ins and outs of Amazon's struggles with publishers. I suspect this will change over time. Due to this issue, it's unlikely I've bought my last physical book, but I have found I'm likely to buy an alternative eBook rather than buy the book I was looking for. That's a message to publishers and writers: don't fight this trend, embrace it. And a message to Amazon: fix your stupid international publishing issues so the Kindle versions are available internationally - you'll lose revenue whilst this persists.
Seth has a few of his own suggestions
on improving the business model.
If you are an avid reader, I'd thoroughly recommend getting one.
Labels: Books, Cool Tech stuff

posted by Lee Gale @ 2:08 AM, ,
Cue
Star Wars Evil Empire theme music
(or
listen to it here
).
Reading the news in July that
Apple Rejects Google Voice App
, I can't help but smile at the battle of wills between these two tech titans. Apple's resurgence as a player in the tech industry is nothing short of inspiring. Google's ascendancy humbled the previously dominant Microsoft - so much so that Microsoft is having to reinvent itself in a way Apple never did, in order to continue to be a leader in the new world order.
Apple's woes prior to Steve Job's return, in my opinion, were more about execution and having a product portfolio that people covet. Microsoft's woes are more fundamental - the business model that served them so well for so long, has been been challenged by Google's beta-software-as-a-service-paid-for-with-advertising model.
According to
Apple's website
, they haven't
rejected
GoogleVoice
, but continue to study it. Apple also explain their reasoning quite thoroughly and reasonably: the app alters their interface and bypasses the voice networks of the carriers that sell it.
So which one is the Evil Empire?
My partner makes a good point: to be the Evil Empire, you'd have to make products that don't work well and use your market dominance to force feed them to the masses... like Microsoft does/did. Apple and Google currently make products that work.
What will be interesting is whether consumer groups will be able to force carriers
to obey broadband rules
that force ISPs to let users run whatever applications they want.
Labels: Cool Tech stuff

posted by Lee Gale @ 1:03 AM, ,
Back in May, I blogged
Where am I?
and took a look at the apps available for planning & sharing your travel.
Since then,
Dopplr has released a version of their app for the iPhone
, and I must say - it's quite good!
I used it whilst
over in Toronto
, and the Social Atlas feature is incredibly useful!
From their website:
"
Because your iPhone knows your location, the app can show you nearby places to eat, stay and explore, as recommended by the Dopplr community. It also comes with built-in recommendations for 250 popular cities around the world.
With a single tap, you can add new places you've discovered to the Dopplr Social Atlas. You'll be able to confirm these additions, and enter more details, next time you log in to dopplr.com.
"
Labels: Cool Tech stuff, Personal effectiveness

posted by Lee Gale @ 1:17 AM, ,
A recently addition to my iPhone is the
LinkedIn
app.
Great features of use to people out on the road are the address book, searching and your LinkedIn messages.
The search feature is useful whilst in meetings - just type in a name and see if you are connected!
Checkout the video of the app here:
Labels: Cool Tech stuff, Personal effectiveness

posted by Lee Gale @ 1:52 AM, ,
Last year I blogged about
Google Analytics Reporting Suite brings Google Analytics to the desktop
, an app I used to analyse my site traffic.
This is now out of beta and is called
Polaris
.
Polaris is a cross-platform desktop widget for Google Analytics. With 8 standard reports it's the easiest way keep your data always instantly available.
The rich interface and swift navigation make it a pleasure to use.
Polaris is a
free download
for everyone who manages one website profile. For those who are managing multiple profiles, the upgrade to the full version is $15 / year. Both the free and the full version will get regular free updates with new functionality and features.
It doesn't quite have the features I found most useful from the beta suite.
Dopac
, coming soon, will apparently take the original experience to the next level and brings a lot of new concepts to the table.
Labels: Cool Tech stuff

posted by Lee Gale @ 1:32 PM, ,
There are quite a few useful apps you can use to share your travel plans with your online social networks.
I've been a user of
Dopplr
for over a year now. It's got an easy to use interface through which you can: connect with your friends and share your travel plans, link it to your Facebook profile and publish you plans there, as well as see when who you are in the same city as at any point. It does a whole lot more, but that is primarily what I am using it for.
I'm going to attempt to use the
mobile version
as my travel picks up in the coming months but as yet, it remains untested.
But I'm also a member of Linked In. And Dopplr doesn't post my travel plans to
Linked In
but I did notice that
TripIt
does. It was shortly after that I read VentureBeat's article
TripIt launches iPhone app — puts itineraries at your fingertips.
So I've now signed up with TripIt, installed the iPhone app and connected to my Linked In account.
Based on my initial use of both TripIt's iPhone app and Dopplr's mobile version via Safari, I think TripIt is winning in the
usability
stakes.
As I mentioned, there are a few apps out there. Another one that will probably take off, more in a real-time use, is
Google's Latitude
which I read about in ReadWriteWeb's article
Google Latitude: Ready to Tell Your Friends (and Google) Where You Are?
. There is also a great video there worth watching that I've posted at the base of this blog. As the article suggests:
"Google Latitude allows you to share location-based information with friends. And it's incredibly easy to get started. Simply install the app on your smartphone (no iPhone yet) or iGoogle. You have the option of sharing your location by dynamically updating the service using your phone or by manually updating your location on the Web."
I'm not sure I'm ready to go there just yet...
For an interesting peek into the future for users of the Google service, it's worth reading
ReadWriteWeb's other article
Did Google Just Kill All the Other Mobile Social Networks?
. In that article they look at how online social networks are evolving and how proximity mapping might evolve as a feature for those networks.
Checkout Google Latitude on YouTube:
Labels: Cool Tech stuff, Personal effectiveness, Travel

posted by Lee Gale @ 2:01 AM, ,
They were statements we used a lot at Adobe:
People, not 'users', interact with systems

; and
Only two industries have 'users' - software and drugs.
These were the thoughts that sprung back into my head when reading about the feedback from people regarding
Facebook's User Interface update
.
The point of this blog isn't to
pay out (meaning #4 of the term)
on the new UI - redesigns are an inevitably necessary function of a website as new features are added and people demand new ways of accessing those features and their data - but to make the point that
techies need to make it easy for people to fully utilise those new features
.
On the update weekend back in March 2009, I remember all my friend's status updates being something to the tune of: "
I hate the new FB
" and "
where are my events?
".
It took me about 6 minutes to find where my events had disappeared to (hint: check the bottom task bar). That's fine - I made the investment to figure it out, but can the site's owners expect all their 'users' to do so? Isn't it more likely that a growing percentage of 'users' simply will not use the feature anymore because they can't find it?.


Why didn't Facebook provide transition guides for people that were immediately available on their new home page?
As I mentioned in
You suck at Photoshop
,
eLearning should be easy and fun.
Even now, checking "
help
" and diving into the "
events application help
" provides un-obvious ways to make the transition. I guess
"How to use the Events application.
" and then "
I can't find the Events application.
" is the best way to figure it out.
Lee to
Mark Zuckerberg
: serve us better or we'll cut and run to the next social site to come along.
Labels: Cool Tech stuff

posted by Lee Gale @ 3:39 AM, ,
An
April fools
post? Actually, no.
It's interesting to read up on the latest developments regarding
the new frontier of
human-computer interaction (HCI)
:
multi-touch
.
The VentureBeat article
With a big N-trig investment, Microsoft is racing Apple to multi-touch
outlines Microsoft's investment in this technology and been taking the lead on multi-touch from a computing perspective.
Multi-touch
is a term used for touchscreens that can recognize multiple contact points at once on the same screen. This feature has been made popular by the
Apple iPhone
.
As the FastCompany article
Microsoft's Surface 2.0-aka SecondLight-Due in Two Years
outlines, this goes beyond just detecting multi-touch gestural inputs when users prod the screen, it detects and reacts to "mid-air" gestural controls, without anyone needing to touch anything.
Taking that theme even further is Samsung's work discussed at another FastCompany article
Samsung Shows One Future For Touchscreen Cellphones: Alphabet Gestures
. Samsung bring us programmable gestures for people to personalise how they want to interact with their phone's features.
Finally, ReadWriteWeb gives us a wider insight into what's coming down the pike in
The Future of Touch
.
This will all spawn new ways in which we interact with information and really deliver on the vision portrayed in the 2002 Spielberg movie
Minority Report
.
Very cool !
Labels: Cool Tech stuff

posted by Lee Gale @ 1:37 AM, ,
Checkout this great article from ReadWriteWeb -
Mac: 25 Years in Pictures
.
I fondly remember learning to programme on a 1st generation Macintosh at high-school.
The article also has a video of Steve Jobs introducing the Macintosh in 1984.
Labels: Cool Tech stuff

posted by Lee Gale @ 5:08 AM, ,
So far we've looked at
Managing Email and getting stuff done
and
Writing emails properly - saving yourself and other people time
, so I thought I'd offer a little more help in the war against declaring
e-mail bankruptcy
:
you don't need to do this the hard way - you can cheat and get help
!
I'm an MS Outlook user because:
I manage several email accounts so a mail client is easiest in order to have everything in one place;
I want access to my email online and offline;

I always have used it so I'm familiar with the tool i.e. I'm productive with it; and
It has been the corporate standard of the all the companies I've worked at.

There are some pretty cool Outlook features such as being able to find all messages in a thread, that when used, can seriously cut down your inbox.
The
news that Gmail will soon have an offline client
means users can then bolt on a few tools, such as
Xoopit
, to assist them.
Yahoo! Zimbra Desktop
could be useful... I haven't used it before, so if anyone has comments on it, feel free to do so.
Postbox
looks quite interesting so I've signed up for the beta of that... but I can't tell from their website if it is an add-on and if it works with MS Outlook. I guess I'll find out.
A tool I have used is
Xobni
(inbox spelt backwards). It is an Outlook plug-in that saves you time finding email conversations, contacts and attachments. I used a beta version about 9 months ago and did find some tools to be more helpful than others. For instance, Xobni automagically extracts a contact's phone number from their signature - very cool!
I did uninstall the beta because I found with Windows Search, Google Desktop AND Xobni's search all running, my laptop ran like the proverbial dog, but perhaps the current release has solved that issue.
See Xobni's product demo'd here:
Labels: Cool Tech stuff, Personal effectiveness

posted by Lee Gale @ 11:37 PM, ,
I was introduced to this video series whilst attending Adobe's 2009 sales conference in San Jose.
What a riot!!! This guy's sense of humour is great, if not a little dark. My favourite is episode #4: "
strap on your stupid and get at it
"... "
you've only been using about $75 worth of Photoshop and this is going to open you up to, like, at least $250 worth".
:-)
Aside from the hilarity of the clips, there is quite a lot you can learn from this professionally. The first point is the authentic style of the presenter - uber critical in gaining the audience's respect. Another key lesson is the role YouTube can play in how an organisation can support it's customer base with fun and interesting tutorials on products. And finally, this series reiterates that learning doesn't need to be boring!
Labels: Adobe, Cool Tech stuff, Funny, Sales and Marketing

posted by Lee Gale @ 5:38 AM, ,
Whilst the United States and the world celebrate President Obama's inauguration, I thought it worth sharing
this cool use of transcribed flash video by the New York Times.
Labels: Adobe, Cool Tech stuff, Politics - World

posted by Lee Gale @ 3:09 PM, ,
According to the
latest data from Net Application
, in November, Mozilla's Firefox browser surpassed 20% market share for the first time in its history, while Microsoft's IE7 now only commands under 70% of the browser market.
ReadWriteWeb
wonders if IE8 will change things but I suspect a key question (that I'm unconvinced Microsoft can address) is the speed of the app.
The terrible memory performance of IE7 on Windows XP is the key reason I switched to Firefox. It just works and I've not had to think about performance issues since the switch.
Labels: Cool Tech stuff

posted by Lee Gale @ 7:37 AM, ,
My partner and I often talk about the concept of leveraging the cloud for music storage and playback (having even looked at Venture Capital raising to do it ourselves), rather than the traditional synchronisation between storage devices.
ReadWriteWeb have a great
piece on the current options
.
The reason for the appeal:
universal access to your content
.
I have an iPod in my car, an iPhone with me most of the time, iTunes on my laptop, and iTunes on our media PC. My partner also has the iPod, the iPhone and laptop. You can see how synchronising our music over all these devices is painful (coupled with Apple's Fairplay DRM which limits you to 5 computers running iTunes).
Labels: Cool Tech stuff

posted by Lee Gale @ 6:08 AM, ,
Interesting to see
Google doing the smart thing
: hand out their product to employees to drive market awareness & adoption (or avoiding cash incentives).
Apparently this means 85% of Googler's globally will be able to receive the phone. As of September 30, 2008, they had 20,123 employees so this means approximately 17,100 phone into the market. Looking at the iPhone's quarterly sales data, this would barely put a dent in the almost 7m units shipped in Q408, but does put a dent in the ~100k per quarter shipped in 3 of the last 6 quarters.
Labels: Cool Tech stuff

posted by Lee Gale @ 3:55 PM, ,
Checkout
this news at Venture Beat
.
Those numbers are astounding! I guess it is no different from the ring-tone business - yet another business I don't really understand how it gets away with it. I just don't understand who wants a fart application. Really.
However, what is interesting about this is the revenue/business model at play.
This is a lesson I learned at a fund raising project: if you make the cost seemingly insignificant and you can drive volume, you can drive significant revenue. In this case, 99c is insignificant to most people (or it should be to 14 year olds, but usual logic doesn't apply with them) so Comm's InfoMedia has driven decent revenue.
What is also interesting in this segment is how both the
iPhone
and the
Nintendo Wii
have created new adjacent segments in the electronic gaming market - the 'non-nerd' markets. In doing so, they've expanded the
total addressable market
(TAM) for this revenue/business model.
I guess then it is no surprise that, according to Venture Beat,
game and virtual world funding topped $500 million in 2008
.
Labels: Cool Tech stuff

posted by Lee Gale @ 8:45 AM, ,
This was the year of the iPhone 3G, T-Mobile G1, the Blackberry Storm…and lest you forget, the Samsung Omnia i900, too. And you thought the packaging for Amazon's Kindle was impressive.
Labels: Cool Tech stuff

posted by Lee Gale @ 4:11 PM, ,
To-do lists

Saturday, December 20, 2008
When blogging about the book
The 4-Hour Workweek
, I decided to break out the topic of
"To-Do" lists
given the importance of daily goal setting.
Now, if you want to be
completely
confused, Google "
to-do list
" and be prepared for the overwhelming amount of content on the topic. Over the years, I've heard many approaches to this time management technique and found some things work for me and others don't. So rather than approach this from an absolute position, I'm going to share my experiences and thoughts on what works for me and why.
So, the obvious (perhaps?) statement that "To-Do" lists are a tool used as part of
time management
.
Applying Tim's ruthless approach to what you do choose to spend your time on is great advice, which we covered with
Pareto's Law
(focusing on the 20% that produces 80% of the results),
Parkinson's Law
(work expands to fill the time we've allocated to it, so be ruthless with your time allocation), and
Outsourcing Life
(if it can't be automated, outsource it to the lowest cost producer possible). This leaves us with actually doing stuff ourselves, and the need for the "To-Do" list.
Already some readers will be thinking "
this looks like a derivative of the 4D framework" -
Do it now, Do it later, Delegate it & Dump it. Yes it is. Come on, you don't think that Tim came up with every concept in that book by himself...
did you
?
Steve Pavlina
covers all of this from his personal view point as well including batching time (also part of Tim's writing) to cut down on wasting time.
So, back to the "To-Do" list.
I liked Tim's key point here a lot. Don't write a daily list that spans pages and guarantee's you will only finish a handful of tasks. Instead,
pick one or two tasks that a absolutely critical
(based on your prioritisation process we've covered)
and knock those out of the ball-park
.
British author
Mark Forster
covers this in-depth in his book "
Do It Tomorrow and Other Secrets of Time Management
". He argues that the traditional never-ending to-do lists virtually guarantees that some of your work will be left undone. His approach advocates getting all your work done, every day, and if you are unable to achieve it helps you diagnose where you are going wrong and what needs to change.
Why is this important? According to Wikipedia, Jared Sandberg wrote in the WSJ, task lists "aren't the key to productivity [that] they're cracked up to be". He reported an estimated "30% of listers spend more time managing their lists than [they do] completing what's on them". Tim talks about this in terms of "crutch" activities - procrastination techniques used to prolong the planned activity. In essence, the "To-Do" lists fall prey to Parkinson's Law! As with any activity, there's a point of diminishing returns, so the point is not to get caught up in the process, but to get the tasks done.
Over the years, I've tried a number of techniques to help me. I've settled for a combination of Tim's advice (at around 6pm each evening, pick two tasks you must do the next day) and the traditional 4D techniques which include scheduling things in the future (i.e. beyond tomorrow).
I use both the MS Outlook task list for longer-range or less critical tasks, as well as scheduling the important items in my calendar
. Using MS Outlook for email, calendar and task list just simplifies managing time by putting it altogether. For example, being able to flag an email as something to follow up on at a certain date and time then pops up the task reminder when it is due to be reviewed again. Simple.
The diarising of key tasks also helps me manage a challenge many of you will face working in a large organisation - your co-workers can see your availability via your calendaring system. Whilst this offers some terrific benefits, it also carries the downside that people think they can just schedule stuff if you have free time in your calendar.
By blocking out your time with tasks (and marking it private so the details aren't available), I've found people then either email or call me to ask when I'm going to have time available for the meeting. This in turn provides you with the opportunity to clarify the goal of the meeting and not doing it i.e. you might already have the answer to the question and can simply email it to them, or know the information needed to make a decision won't be available until a date in the future, etc.
I started this approach of putting tasks in my calendar in the first job I worked at because the company had an
Activity Based Costing
system for the application development teams working for various projects & business units. I found when it came to doing the monthly time sheets, I couldn't accurately remember everything I'd done and trying to keep a time sheet open all the time meant I spent more time on the time sheet than doing stuff. So booking everything in my calendar was a great middle ground and I've used it ever since.
Interestingly, Microsoft and SAP have taken this concept and productised it with their
Duet product
. A great idea for large organisations!
Labels: Cool Tech stuff, Personal effectiveness

posted by Lee Gale @ 4:54 PM, ,
Elite by Design
lists eight of its favorite AIR-based applications and writes about AIR technology. The blog states, "Could this [AIR] be one of the revolutionary new changes that dominate and define the course of programming for the next generation of web based applications? Well, one thing's for sure; it doesn't seem to be slowing down any time soon." The list includes Klok, TweetDeck and Pandora.
I use the
Google Analytics app
and highly recommend it.
Labels: Adobe, Cool Tech stuff

posted by Lee Gale @ 7:16 AM, ,
On November 19th & 20th, the SAP Australia User Group (SAUG) held their
32nd Plenary
at the Park Hyatt Hotel in Melbourne.
As usual, the Adobe team were on fire:
Andrew
with his
Flex
introduction and demonstrations, and
Lindsay
with his
Connect
overview. My presentation on SAP Interactive Forms by Adobe is available below (click on the image):
Don't ask me about the funny colour conversions and the lack of narration. You can chalk both up to me deciding to just provide the presentation online and favouring expediency over perfectionism... which is actually a rare occurrence for me :-)
Labels: Adobe, Cool Tech stuff, SAP

posted by Lee Gale @ 1:32 PM, ,
Checkout Sun's web cast on cost savings in datacenters around power & heat/cooling consumption to support datacenters:
http://nettalk.sun.com/bhive/c/1000/1488/index.html
.
The link to the web casts assets is here:
http://www.sun.com/aboutsun/environment/green/datacenter.jsp?intcmp=lnch08_datacenter
Regardless as to what your role is relative to Information Technology, you have to give Sun credit for taking the "eco" sales pitch to CIO's effectively in an effort to sell newer servers & storage.
Labels: Cool Tech stuff

posted by Lee Gale @ 1:16 AM, ,
Cocomo

Tuesday, November 18, 2008
Adobe announced yesterday the release of Codename "Cocomo", a Platform as a Service that allows Flex developers to easily add real-time social capabilities into their RIA (rich Internet applications). Comprised of both Flex-based client components and a hosted services infrastructure, Cocomo allows you to build real-time, multi-user applications with Flex in less time than ever before. And because Acrobat.com hosts the service, issues like deployment, maintenance, and scalability are taken care of for you.
Add social features to your existing Flex apps or build totally new ones, such as real-time productivity/collaboration apps, multiplayer games, and audio/video chat.
Way cool !

Labels: Adobe, Cool Tech stuff

posted by Lee Gale @ 1:02 AM, ,
Today, Adobe announced the release of Flash Player 10.
I think the cool features are the performance, the text/font handling and 3D.
Check out the official presentation here:
Labels: Adobe, Cool Tech stuff

posted by Lee Gale @ 6:05 AM, ,
Nissan GT-R

Saturday, October 4, 2008
TopGear Season 11 Episode 5 started off as it ended the last episode, with the Nissan GT-R.
Jeremy
takes it on to a professional circuit
... but how cool is this: the GPS of the car recognises the circuit and removes the speed limit imposed on the car on normal road!!
I'm not much of a Japanese car fan, but with the cool gadgets and great value for money for the performance it delivers, I could be convinced...
Labels: Cars, Cool Tech stuff

posted by Lee Gale @ 7:23 PM, ,
TimeSvr

Tuesday, September 30, 2008
I can't remember now how I came across this service (I suspect it was a news magazine or blog), but
TimeSvr
sounds like an interesting concept.
Quoting their website: "
TimeSvr provides on-demand Virtual Assistants, called Aides, for busy professionals who'd like to get the most out of their day. TimeSvr members can access an Aide anytime (24/7/365), from anywhere, using email, text messaging, Skype IM, the Phone or the Web. Our Aides are specially handpicked to provide high satisfaction while carrying out almost any task requested. They are equipped with the technology they need to do almost any task you require off them, from arranging travel and dinner reservations to making phone calls and doing research on the internet for you. The system is flexible to allow you to use your Aide to do whatever you think is important, however you would like it done. After all, we're all about helping you Save Time & Get Things Done™.
"
I've registered for a pre-launch trial to see what it is like. I'm not sure exactly what I'll use them for, but I suspect if I look at my schedule and activities, there will be quite a bit of small stuff that I could be offloading so as to spend my time on more leveraged activities.
If anyone has experience about this service, I'd be keen to hear from you.
Footnote: It looks like the service went live today...
Labels: Cool Tech stuff, Personal effectiveness

posted by Lee Gale @ 4:09 PM, ,
So, firstly, I'm immensely upset with myself. I usually jot down key messages & thoughts when reading a book like this. After reviewing 6 years of back-ups, I've remembered that I had always
planned
to write those notes for this book, but never did. Therefore, I'm going to re-read this book and do those notes. :-)
I do remember two great take-aways that stayed with me:
The Q12 framework; and
What great managers know.

"What great managers know" really resonated with me, as I had struggled in my early career with some, um, 'average' managers.
To quote: "
great managers know that each individual is true to their unique nature. They recognise that each person is motivated differently, that each person has their own way of thinking and their own style of relating to others. They know that there is a limit to how much remolding they can do to someone. But they don't bemoan these differences and try to grind them down. Instead they

capitalize

on them. Then try to help each person become

more

and

more

or who they already are.
"
Simply put, great managers do not waste their time trying to change people.
Additionally, I find as a manager, I'm naturally drawn to spending my time with the best sales people - after all, how much leverage will you get with a great sales person versus an average one? Clearly, if you have poor performers you need to spend your time with them to either find their grove or to find them a new one, but you'll get better leverage from your time with the A-team.
A good tool you can use as a manager is the
Gallup
Q12 framework. Gallup identified 12 questions that measure employee engagement and link directly to critical performance outcomes, including productivity, employee retention, customer retention, safety, and profitability. These questions are now known as the
Gallup Q12
.
In fact, closer to my work, there
was
a good
Crystal Xcelsius dashboard for the Q12
, but in the upgrade to
Xcelsius 2008
(which leverages Adobe
Flex
and
LiveCycle Data Services ES
), this seems to have disappeared. If anyone knows what happened to this, I'd love to know.
Labels: Books, Cool Tech stuff, Personal effectiveness

posted by Lee Gale @ 3:09 PM, ,
Adobe has officially announced Creative Suit 4.
I think this continues the trend of being the worst keep secret in product announcements. A quick Google search for "adobe cs4" returned 1,950,000 results. The top results are our own beta releases on
labs.adobe.com
and from our senior executives in
earnings announcements
. How could you
not
know this was coming?
I have to admit, the CS business isn't my forte. I'm neither a frequent user nor focused on this as part of my career with Adobe. Having said that, some of the features sound truly amazing, with my favourite being speech-to-text recognition in video production. This will revolutionise online search of video on the web.
Labels: Adobe, Cool Tech stuff

posted by Lee Gale @ 9:00 PM, ,
Adobe AIR

Monday, September 15, 2008
If you have been hiding under a rock - for example, your name is Osama bin Laden - you might be asking "what is Adobe AIR?".
Adobe AIR is a cross-operating system runtime that enables you to use your existing HTML/Ajax, Flex, or Flash web development skills and tools to build and deploy rich Internet applications to the desktop.
Adobe AIR applications support native desktop integration, including clipboard and drag-and-drop support, local file IO, system notification, and more.

Okay, so those of you that have read my profile will realise I'm going to be slightly biased here: I work for Adobe. Having said that, I do think there are some cool apps that you'll genuinely find useful.

Checkout the full list in the Adobe AIR Marketplace.
One of the more recognised brands here is the eBay Desktop app. I haven't used it myself except as a demo of AIR for people.
For the web/print design community at large, kuler desktop will be of interest.

I do use the Analytics Reporting Suite, previously highlighted in my blog, as well as DestroyFlickr, which provides an alternative UI for exploring Flickr.
I did use the Adobe Media Player when if first came out, but the American-centric content wasn't to my taste. :-)

Finally, another daily favourite of mine is Acrobat.com for my desktop. The Adobe AIR version of Acrobat.com provides an easy way of interacting with Acrobat.com by dragging and dropping files and folders from your local computer directly into your Acrobat.com account, and browsing, previewing, sharing or publishing files easily from your computer. I use this to share large file packages with people I'm working with, both at Adobe and outside.

Labels: Adobe, Cool Tech stuff

posted by Lee Gale @ 3:21 PM, ,
For those of you managing your own websites, checkout this
cool AIR-based application for Google Analytics
.
Now, I confess: my interest ends there. The app does the job I want it to do. End of story. But for those of you who think "cool, how did they do that?", you can find out by going to the
Adobe Developer Center
.
Labels: Adobe, Cool Tech stuff

posted by Lee Gale @ 3:10 PM, ,